A community of friends and supporters.
Friends and supporters of Anderson Ranch are a central part of the Ranch family. The loyalty and deep friendships that form and grow within this group and our community of artists is truly inspiring. During uncertain times, our commitment to bringing artists and audiences together has not changed, even if the circumstances have. The support of National Council members is critical to our success.
If you are able to renew your membership this year, or are able to join for the first time, please let Director of Individual Philanthropy Ellie Hahn know by email at ehahn@andersonranch.org.
We would be happy to renew your membership now and invoice you later in the year. As we plan for the future during these uncertain times, counting on your support means a great deal.
The National Council is a dynamic community of supporters who play a leadership role at Anderson Ranch. They provide the annual support to sustain and advance the Ranch's high caliber workshops, artist residencies, visiting artist projects, exhibitions, artist lectures and community outreach.
As a National Council member, you become part of a global arts community that champions Anderson Ranch and its advancement as a place for artistic discovery, community and dialog. National Council members receive invitations to exclusive behind-the-scenes events held in Aspen and beyond, and enjoy intimate access to top contemporary artists, art fairs and collection tours. There are many ways to get involved with Anderson Ranch and the broader world of contemporary art by joining the National Council. We look forward to welcoming you!

Leigh Smith & Philae Knight
National Council Co-Chairs
All that Anderson Ranch has accomplished and the opportunities it provides wouldn't be possible without the generous support of our National Council.
Membership Benefits and Privileges
| Benefit | Visionary | Chair's Circle | Benefactor | Leader | Member |
| --- | --- | --- | --- | --- | --- |
| Private art making experience with an Artistic Director | • | | | | |
| Reserved seating at Summer Series programs upon request | • | | | | |
| Two complimentary tickets to a Critical Dialog Program or symposium | • | • | | | |
| Opportunity for a special meeting with the President and CEO and Curator-in-Residence of Anderson Ranch | • | • | | | |
| Exclusive access and opportunities with Featured Artists including invitations to private luncheons and dinners | • | • | • | | |
| Invitation to salon style conversations with the Curator-in-Residence and President and CEO of Anderson Ranch | • | • | • | | |
| Complimentary VIP passes to select art fairs | • | • | • | | |
| Opportunity to register early for Summer Workshops | • | • | • | | |
| Early access to exclusive prints from the Anderson Ranch Editions program | • | • | • | • | |
| Invitation to the National Council Summer Celebration, parties and events in Aspen and other cities including studio visits and special previews | • | • | • | • | • |
Events, Opportunities and Recognition
As a member of our leadership group of donors, you will be invited to exclusive events including parties, studio tours and receptions. As an additional thank you for your generous support, you are eligible for a newly expanded list of National Council privileges.
Visionary
$50,000+
Members at the Visionary level demonstrate a significant commitment to Anderson Ranch's success and sustainability. Visionary members receive personalized service and an exceptional curated experience at the Ranch, either through art making or spending time with Anderson Ranch's Featured and Visiting Artists in addition to the benefits below.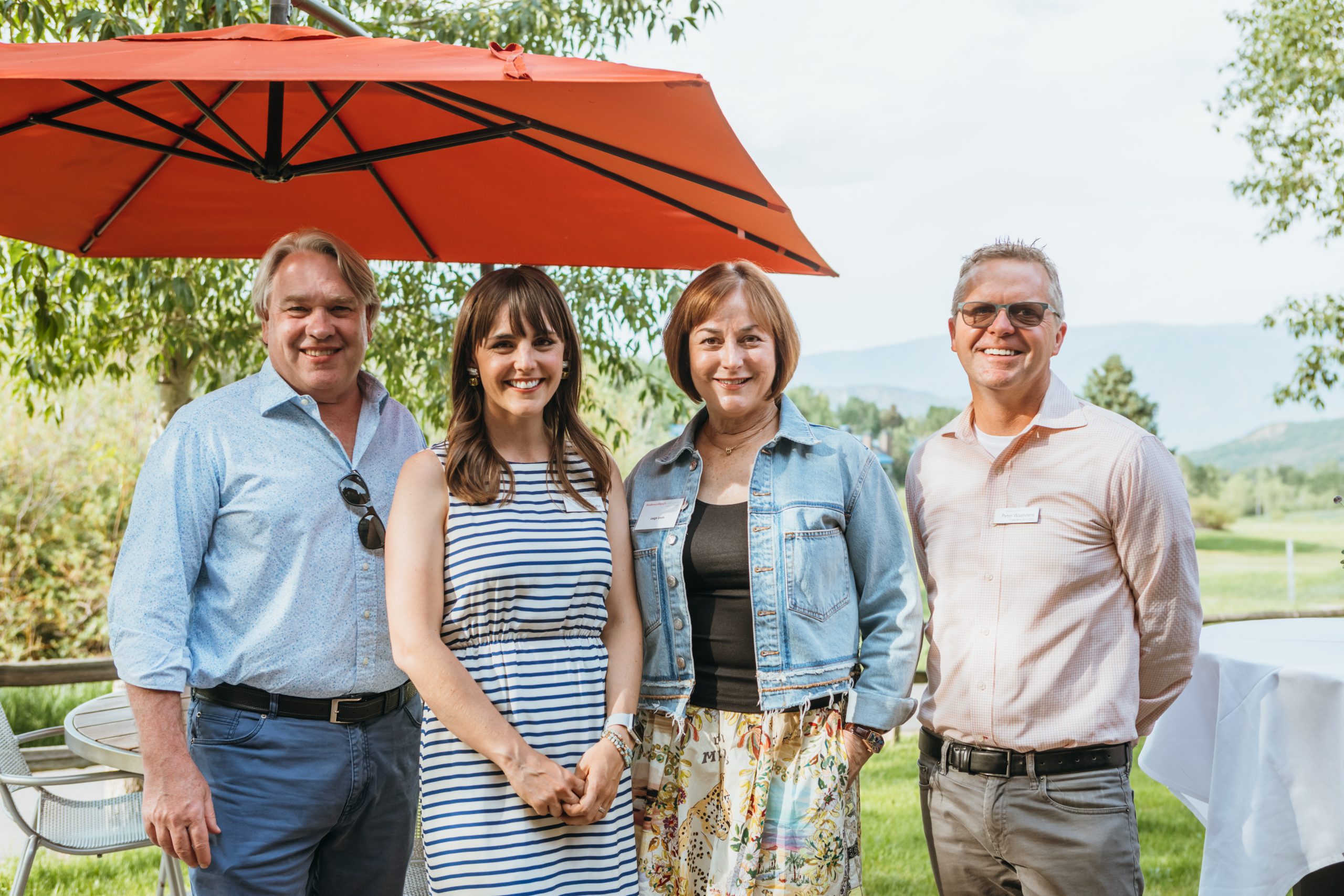 Chair's Circle
$25,000+
Members at the Chair's Circle level receive complimentary access to top contemporary arts programming including Critical Dialog and special symposiums in addition to the benefits below.
Benefactor
$10,000+
Members at the Benefactor level receive exclusive access to Anderson Ranch leadership and Trustees. Events include invitation-only dinners and parties throughout the year in private homes with special guests, including artists and collectors in addition to the benefits below.
Leader
$5,000+
Members at the Leader level deepen their membership and relationship with the Anderson Ranch community. Leaders receive special invitation-only events and priority access to art fairs with complimentary VIP passes. They also receive the opportunity to register early for our summer workshops in addition to the benefits below.
Member
$3,000+
National Council members at the Patron level enjoy advanced notice and early registration for the Summer Series, recognition in the Annual Report, Recognition Dinner program and Annual Art Auction catalog, complimentary parking and seating at the Annual Art Auction and a 10% discount in the ArtWorks Store.
Alex Sanchez
Amnon and Katie Rodan
Alexandra and Robert Munroe
Anna and Matt Freedman
Anne and Chris Tobey
Anne and Chris Reyes
Anthony and Brie Mavunga
Anne Welsh McNulty
Barclay and Randi Miller
Bunni and Paul Copaken
Becky and Mike Murray
Brijetta and Parker Hall Waller
Bryan and Margie Weingarten
Jennifer Goff
Carly Allen Martin
Carole and Gordon Segal
Carrie and Joe Wells
Charles and Bunny Burson
Chris Cleaver
Claire Dewar
Clarisse Perrette
Jane and Bob Clark
Barbara and Bruce Berger
Capera Ryan
Cyrena and Marcus Torrey
Carlos Trei
Dana and Andrew Stone
Dawn Arnall
Jim & Dianne Light
Diane Oshin
Erica and Jeff Keswin
Dorothy and Aaron Podhurst
Donna Pohlad
Allen and Kelli Questrom
Elaine Lebuhn
Ellen Susman
Gabriela and Scott Palmierie
Jim and Ghislaine Shallcross
Glenn Bucksbaum
George and Carla Frampton
Jamie and Bush Helzberg
Terry and Cynthia Siegel
Ian and Stephen Alteveer
Isa and Daniel Catto
Jackie and John Bucksbaum
Jami and Antony Gertz
Jeannie and John Seybold
Jeff and Jon Grinspoon
Jennifer Hermelin
Jill and Jay Bernstein
Jim and Sallie Aresty
Dianne and Jim Light
Jan and Ron Green
Jo and Bill Brandt
Jody and David Post
John and Sarah Rowland
Jon and Barbrara Lee
Judy and Robbie Mann
Karen and Jim Frank
Karen and Courtney Lord
Kevin and Richard Ramnaraine
Kim and Evan Wyly
Katie and Paul Kitchen
Katherine Neisser
Kate Tomford
Laura and Michael Umansky
Laura Donnelley
Leslie and Jack Blanton
Betty and Lloyd Schermer
Liz and Eric Lefkofsky
Liza and Jon Mauck
Lori and Pete Dresner
Lynda and Stewart Resnick
Lucy Baird
Magge and Chuck Morrison
Marlene Maleke
Marcy and Leo Edelstein
Martha Finegr
Caryn and Mark Israel
Mary and Harold Zlot
Melanie Falk
Melony and Adam Lewis
Marie and Bill Wise
Marjorie Weber
Michelle and Perry Griffith
Mike and Linda Lyon
Brad Miller
Joanna Miller
Jude and Lori Reyes
Idit Ferder
Nancy Blank
Nedra and Mark Oren
Noah Pollack
Nancy and Jeff Baumann
Kirstie Steiner
Pam and Art Sander
Philae Knight
Rachel Schectmann
Carey and Henry Bond
Rita and Jeff Adler
Rodger and Joan Gurrentz
Robin and Mark Tebbe
Rona and Jeffrey Citrin
Rosemarie Lanvender
Leigh and Reggie Smith
Reggie and Leigh Smith
Rudy Weissenberg
Gail and Richard Sachson
Sally and Jim Klingbeil
Sara and Don Nelson
Sarah and Thomas Arison Wilhelm
Sarah Calodney
Sara Ransford
Susan and Scott Francis Scott
Steve and Nancy Crown
Sara Dodd
Sharon and John Hoffman
Soledad and Bob Hurst
Stephen and Ian Figge
Stephen and Susan Baird
Sylvia Kaufman
Tony and Nick DiLucia
Vicki and Bruce Heyman
Mary Kathryn Hartigan
Tom and Janet O'Connor
Holly Rom
Sylvie and Gary Crum