Outdoor Sculpture Exhibition
Anderson Ranch Arts Center is pleased to present our third annual outdoor sculpture exhibition, entitled From There to Here, curated by Ranch Artistic Programs Manager Meriwether McClorey. This iteration of the exhibition includes works by emerging and established artists, many with a personal connection to the Ranch, including past Summer Series speakers, Visiting Artists and Artistic Staff members. New works include contributions from artists Leah Aegerter, Sanford Biggers, Louise Deroualle, Jessica Stockholder and Tavares Strachan. We are also thrilled to welcome several new artists to the Ranch with sculptures by Isamu Noguchi, Virginia Overton and Nari Ward. Many of the works in this year's exhibition are socially and politically engaged, encouraging discourse and conversation about race, history, identity and belonging. 
If you are interested in purchasing a sculpture, please contact Meriwether McClorey, Artistic Programs Manager, at mmcclorey@andersonranch.org or call 970/924-5098 for more information.
Read about the participating artists below and tour the campus; we're open from Monday – Friday 9AM-5PM and currently closed on Saturday and Sunday.
The Outdoor Sculpture Exhibition is generously sponsored by:
Digital Self-Guided Tour
To learn about the outdoor sculpture exhibition and campus buildings, view the digital self-guided tour.
CLICK HERE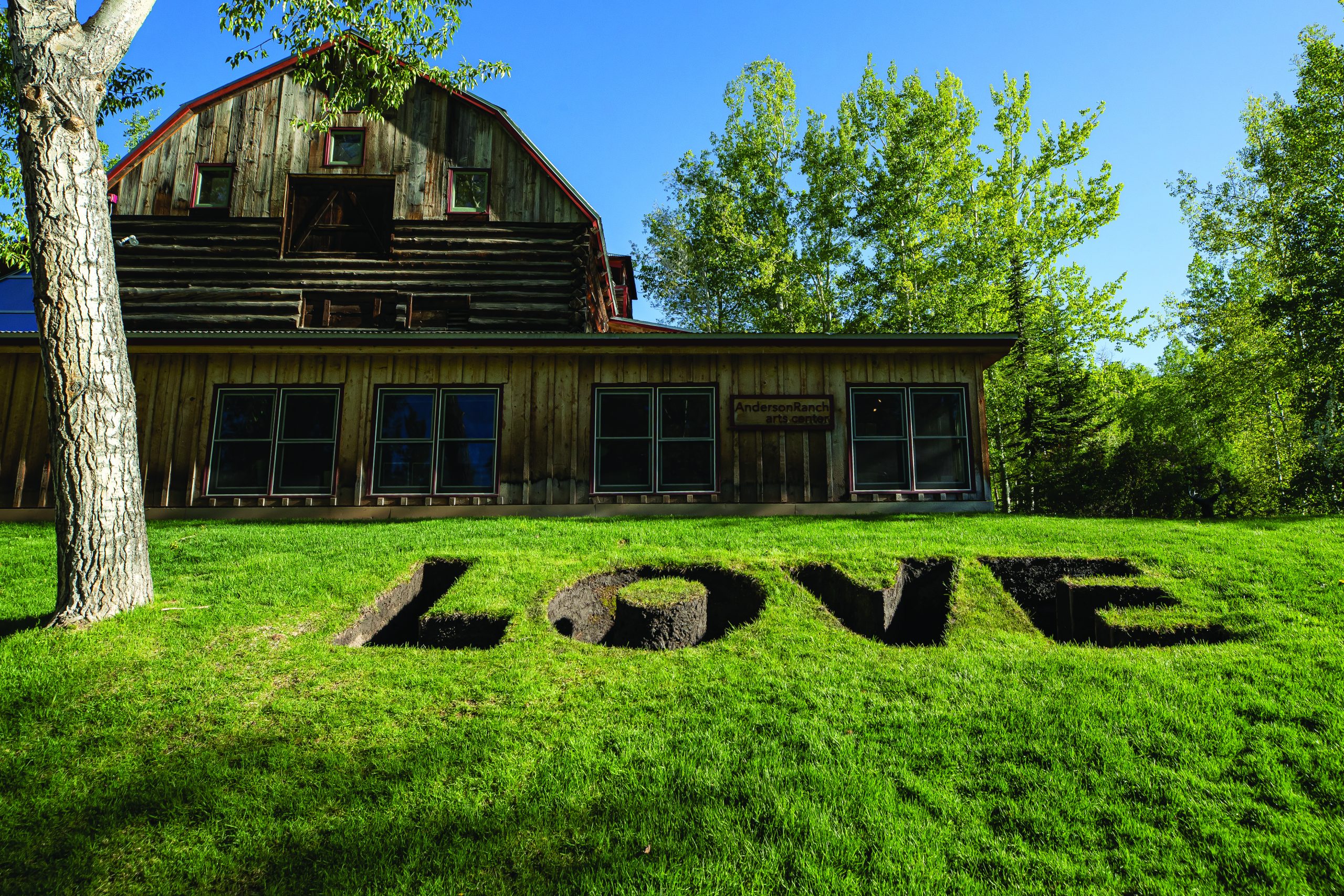 1. Ghada Amer Love Grave, 2020 | Earthwork
Courtesy of the artist and Marianne Boesky Gallery, New York and Aspen
Love Grave was originally commissioned by the Indianapolis Museum of Art, Indiana in 2003. The letters of the word "LOVE" are dug six feet into the ground, revealing the dichotomy inherent in spelling the word "love" by means of a symbol of death that calls attention to the connections between Eros and Thanatos, between plenitude and emptiness. It also alludes to the inevitable ending of love stories.
2. Isamu Noguchi Play Sculpture, c. 1965/80 (fabricated 2021) | Steel and paint
Courtesy of The Isamu Noguchi Foundation and Garden Museum and White Cube
Made from six pieces of standard sewer pipe, Play Sculpture is one of Isamu Noguchi's most successful, all-in-one, environment-in-an-object play-scapes. 
Play Sculpture is emblematic of Noguchi's drive to change our notion of what sculpture should be and to engage our sensory and physical interaction with his art, or just reformat your point of view. Please touch and climb on the sculpture! 
3. Nari Ward Upended G.O.A.T., 2017 | Concrete, sand, fiberglass, rebar and steel wire
Courtesy the artist and Lehmann Maupin, New York, Hong Kong, Seoul and London
Nari Ward created Upended G.O.A.T. as part of his solo exhibition "Nari Ward: G.O.A.T., again" at Socrates Sculpture Park in New York in 2017.  The exhibition featured a series of six outdoor artworks that examined how hubris creates misplaced expectations in American cultural politics and also furthered Ward's exploration of identity, social progress, the urban environment, and group belonging.
4. Jessica Stockholder Assist: Hinge Arrested, 2018 | Brass and copper with stain and ratchet strap
Courtesy of the artist and Mitchell-Innes & Nash, New York
Jessica Stockholder's series of Assist sculptures cannot stand on their own and require being attached to something else, to other freestanding objects chosen by their owners, curators, or the artist.  This might be furniture, appliances, or other sculptures.  As paintings that leave the artist's studio must be supplied a wall in their new venues, the Assist sculptures must be supplied a new object that enables them to stand.
5. Sanford Biggers Oracle, 2021 | Bronze
Courtesy of the artist and Marianne Boesky Gallery, New York and Aspen
Oracle is a continuation of Sanford Biggers' Chimera sculptures, a series of figurative sculptures created by combining African masks and European figures that explore historical depictions of the body and their subsequent myths, narratives, perceptions, and power. In 2021, a 25-foot version of Oracle was presented at Rockefeller Center in collaboration with Art Production Fund.
6. Virginia Overton Monochrome Chime, 2022 |  I-beams, miscellaneous metal and nylon cord
Courtesy of the artist and White Cube

Virginia Overton's new sculpture Monochrome Chime is made of salvaged tools and discarded metal parts including bicycle components, pipes, and saw blades, which are then suspended from an I-beam by steel cables to create two rows of disparate objects running either side of a metal pipe. The work's composition comes together to create the form of a wind chime.
7. Louise Deroualle Glow: Roots and Wings, 2022 | Ceramic
Courtesy of the artist
Louise Deroualle works with ceramic materials to create formal abstractions that reveal different facets – physical, experiential, emotional – of herself. Made out of clay earth, a humble and common material.
8. Louise Deroualle Strength, Vulnerability and Presence 2022 | Ceramic
Courtesy of the artist
Louise Deroualle translates feelings and emotions into her ceramic sculptures by layering ceramic materials to create expressive surfaces. Like her own skin, the surface of her pieces are thin and fragile barriers between the internal and external world. And like skin, the cracks, blisters, and wrinkles that texture the surfaces of her works record time and stories, veiling and yet revealing who we are.
9. Tavares Strachan Sometimes Lies are Prettier, 2020 | Pink neon, steel, sintra
Courtesy of the artist and Marian Goodman Gallery, New York.
Sometimes Lies are Prettier speaks to the many ways we choose to accept the carefully constructed narratives that best fall in line with our lives. When we encounter this work, we are called to question the authenticity of our perspective. In addressing our personal discrepancies between fact and fiction, we can therefore acknowledge the tendency of historical narratives to obscure truths or exclude certain figures. We are ultimately forced to face the instability of our surroundings and our understanding of knowledge.
10. Brad Howe Walking in the Rough, 2018 | Stainless steel
Courtesy of the artist
From a body of totem works, Walking in The Rough, speaks to the spirit of Prickly Pears, Saguaros and Jumping Chollas. Where Walt Whitman meets Will Rogers under a desert moon, tall tales and poetic yarns stack upon each other, a botanical ladder blooms hand grips and foot holds to an eagle's nest from which the ultimate horizon will be charted.
11. Richard Lapedes Time Flies, 2020 | Brass plate and steel fittings
Courtesy of the artist
Time Flies began with the idea of the metaphor, "time flies" and then the artist selected materials and methods to realize this idea visually. This piece was created using no welding or traditional fasteners and is built entirely of identical modular pieces. Time Flies became itself because the steel plates seem so animated as to be flying. And thanks to time's passage, the constantly changing rust and green patterns give biological life to these wings.
12. John Buck Cirrus, 2000 | Bronze
Courtesy of the artist

John Buck's artwork is informed by contemporary issues as well as the primitive and folk art of many cultures. The figures represent the human condition from which abstract compositions emanate. The subject of each sculpture can be inspired by social, political and personal concerns.
13. Leah Aegerter Sun and Stone (Dark Angel), 2022 | Blackened steel and cherry
Courtesy of the artist
Sun and Stone (Dark Angel) centers around a 3D scan captured at the base of the Dark Angel spire in Arches National Park. This piece asks the viewer to assume the position of the rock and engages moments, relationships, and tensions noticed in the desert: the sensuality of sandstone surfaces; the fraught yet beautiful connection between natural forms and industrial materials infiltrating the red rock landscapes; the emotional warmth the moment the sun illuminates the rock –  we too know what it's like to feel the heat of sunlight. We are all wild things being held by the built world, experiencing the elements of nature running their course around us, whether we notice them or not.
14. Rogan Gregory Stallion, 2020 | Gypsum and steel
Courtesy of the artist and R & Company, New York
Historically the black stallion symbolizes courage and freedom. This majestic animal is a being of power, independence, nobleness, endurance, confidence, triumph and heroism. In some cultures, however, this animal is a symbol of darkness –  a token of war and the apocalypse. This humble vegetarian equine however is none of those things if left to run free without labels assigned by humans. It is human nature to dominate, tame and neuter the landscape and the symbols of freedom that exist in the wild.
15. Enrique Martínez Celaya The Savior, 2008 | Bronze
Courtesy of the artist
The Savior is a bronze sculpture from 2008, depicting a deer pulling his homeland with its mountain and lakes. The homeland is attached to the deer's antlers suggesting that it is both a source of guidance and growth and also as an attachment to who we used to be.